A dream-like odyssey through space and time
Imagined by Guy Laliberté and created by Gabriel Coutu-Dumont, Through the Echoes is a 50-minute multimedia show that leverages all of PY1's technology. Surrounded by grandiose lightscapes, vibrant music, and atmospheric special effects, the audience travel through space and time like in a waking dream!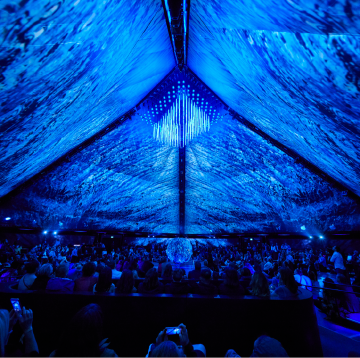 A one-of-a-kind experience
Featuring lasers, 360-degree projections, kinetic stage elements, atmospheric special effects and grandiose lightscapes, Through the Echoes brings all of PY1's technology to life to mesmerize young and old alike.
A vibrant experience
The story of Through The Echoes is told through an original soundtrack that combines music from a variety of genres.
An odyssey at the heart of the pyramid
If Through the Echoes is a voyage then the pyramid is your vessel! Free to stand, sit, lie down and move around openly as you'll explore the universe from the formation of atoms to the dawn of humankind.
The making of Through the Echoes