A one of a kind multimedia experience
Imagined by Guy Laliberté and created by Gabriel Coutu-Dumont, Through the Echoes is a multimedia show that transports you on a technological odyssey through space and time. Let yourself be immersed in vibrant music, visuals, and special effects.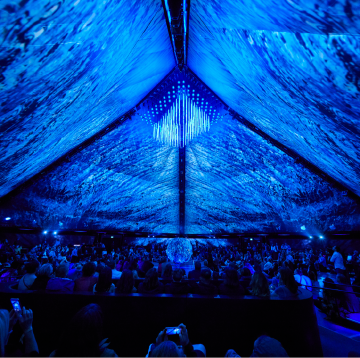 Immerse yourself
Featuring lasers, 360-degree projections, kinetic stage elements, atmospheric special effects and grandiose lightscapes, Through the Echoes brings all of PY1's technology to life.
A vibrant experience
The story of Through The Echoes is told through an original soundtrack that combines music from a variety of genres.
Take center stage
The unique setting of PY1 allows you to appreciate the show from different perspectives and be at the forefront of the experience. Imagine being around a campfire under the stars... Gather together and enjoy the show!
The making of Through the Echoes