Entertainment has a new home
PY1 is an innovative pyramid-shaped venue presenting unique entertainment experiences.
PY1 Shows
All ages (12+)
Featuring lasers, 360° projections, kinetic stage elements, special effects and grandiose lightscapes, This one of-a-kind multimedia show transports you on technological odyssey through space and time.
Families (3+)
Using some incredible images and awe-inspiring music from our show Through the Echoes™, this new participatory multimedia show encourages kids and their families to move and dance in the biggest time machine ever built! Stella – the Time Machine Journey™ promises an unforgettable adventure for the whole family!
PY1 Nights
As night falls, the pyramid transforms into a gigantic dance floor where you'll discover thematic worlds complete with staggering visuals and electronic music played by local DJs! Which world will you pick?
View all nights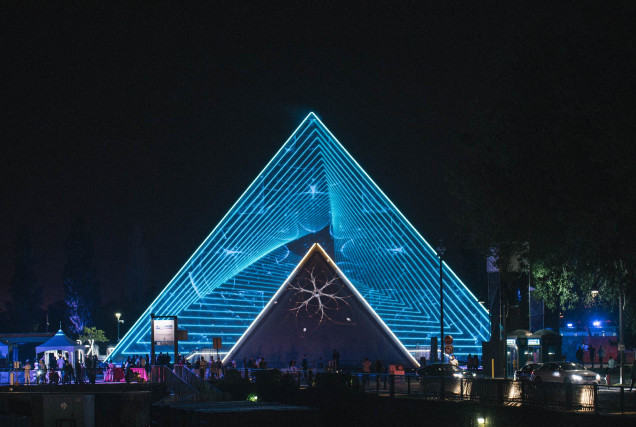 Corporate experiences
PY1 is the perfect venue to create jaw-dropping events. Get access to cutting edge technology and create never-seen-before environments.
If you aren't convinced yet
"The PY1 Pyramid in Arlington Is Even Cooler Than We Thought! The space's potential and versatility are precisely the reason that we're sighing with "What a time to be alive" appreciation."
"How spectacular! What a clever use of the pyramid walls as projector screens to create the 3D feel. The part with the lasers was out of this world. The seating arrangements were also very creative and provided great views for every single audience member. Thank you for providing such an amazing experience!"
"That is PY1, a new entertainment experience destination. It is just the breath of fresh air that Dallas needs."
"After being invited to attend one of those themed nights, we can say PY1 shoots and it scores."
"My daughter and I took 2 dear friends with us and had a wonderful time. This light show is amazing! This was an event that we usually wouldn't think about attending and we truly enjoyed the experience!"
"I do think the word experience is the best word to describe Stella - The Time Machine Journey. It isn't just a show, nothing like a Cirque show that features acrobats. This was a different experience. The lasers, music and movement – yes movement, you feel as if you are apart of the story."
"We went to the Stella - The Time Machine Journey show & the entire experience was fantastic! The beer garden, food truck and reception area were all great. 2 moms & 2 boys, 15 & 6 years old and we all equally enjoyed the experience!"
"Can't even explain the experience of Through the Echoes. It touches EVERY sense of your person AND carries an amazing message with it. Outstanding performance!"
"Went to the POP theme party for New Year's Eve and it was an amazing experience! Best night of my life!"
"I absolutely LOVED the show Through the Echoes! I felt so connected to the images and the rythms that it brought me to tears! I have never experienced anything quite like this before... Can't wait to try a thematic party inside the pyramid!"
"Saw Stella - The Time Machine Journey today with the whole family! Amazing! The kids are still talking about it!"
"I went to see Through the Echoes today and it was awesome! Thanks for bringing this to Dallas-Forthworth!"
Looking for more information?